16 December 2006 @ 04:54 pm
Please go to
lessorcieres
instead!
AND JOIN.
05 November 2006 @ 08:41 pm


Join
illustriousity today! Once you join, comment here with your name and picture URL that you want. Then, get somebody else to join by getting them to post their name and who referred them, and then their picture URL. Then you check back to see if anybody has put you as their referral and you can post another picture URL. So, you'll get an icon for every person you refer!


19 September 2006 @ 04:43 pm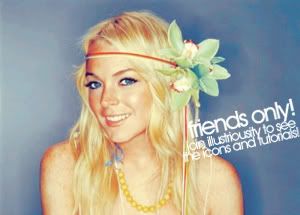 welcome to
illustriousity.
illustriousity is a new icon community that will take your requests, offer you tutorials, and help you, as well as providing you with uber icons.

Please join!